Incorporating updates
---
The Downloads page gives the latest versions of the MYRLIN modules as complete workbooks, including a demonstration project that is consistent with the examples on this website.
If you have a existing projects scattered over several workbooks, then you need to replace the Visual Basic modules in those workbooks with the upgraded modules. Download the latest module versions here:
MYRLIN3.BAS
Note that these are text files which contain only visual basic code.
Before starting the procedures describe below, make a backup copy of the workbook you wish to upgrade. If you have renamed the workbook, be sure of the MYRLIN module number you are working with. Importing the MYRLIN3.BAS file into a MYRLIN#1 workbook, for example, would not result in a functional system, and might cause loss of data if run.
Open the workbook you wish to upgrade. To avoid confusion, make sure it is the only Excel file open. Start the Visual Basic editor by pressing Alt-F11. You should see the Project Explorer window at the right of the Visual Basic editor screen, as below. If the Project Explorer screen is not visible, use Ctrl-R to bring it into view.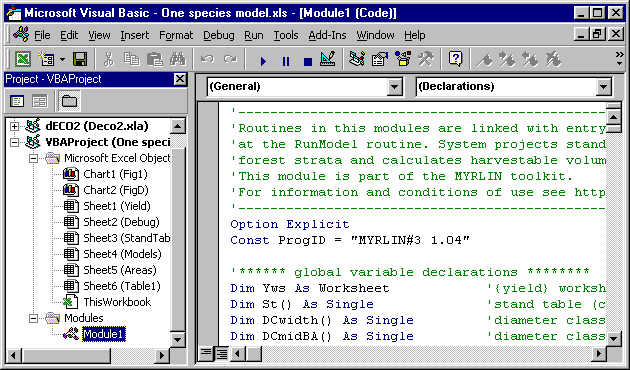 Select Module1 on the project explorer window. From the File menu, pick the Remove option. This will ask if you wish to save the module before removing it. Click the Yes button, and save the old module in some suitable place. This gives you some backup if you are accidently working with the wrong files, for example.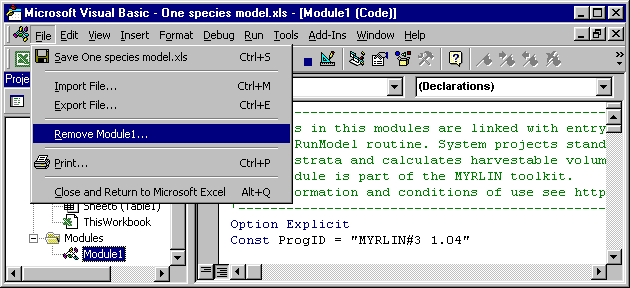 Now select the File menu again, and use Import File to locate and import the relevant basic module, as per the list above. When it has been imported, double click on the Module1 entry, and check that the variable ProgID, as in the example above, is for the expected MYRLIN module and version number, as advised in the update notes. Click on the diskette symbol on the Visual Basic Editor window to save the changes. Test the changes by switching to Excel on the Windows taskbar, and running the macro. Do not try and run the macro from within Visual Basic Editor - you may start at the wrong point in the program.
To avoid confusion over the module numbers, please note that Visual Basic will always call the program code module1 by default - irrespective of whether you have imported MYRLIN1.BAS, MYRLIN2.BAS or MYRLIN3.BAS.
If you import a module without first removing the old one as instructed above, then compiler errors will occur when you try to run it, due to the existence of program code with duplicate procedure names. In some cases, Windows may lock up or crash, leading to possible loss of data.